These burgers have been fantastic to have in the fridge during the week. I haven't tried freezing them yet, but I'm pretty sure they'll hold ok. It'll be great to have a batch done over the weekend and then have backups in the freezer for a quick meal.
I've done this recipe with canned tuna as well as with canned salmon. They've come out great both times. They're quite filling. I've had them in different ways depending on how hungry I was feeling – sometimes just the burgers themselves, other times I'd have it with salad, or I've made them a bit bigger and put them over a grilled portobello mushroom.
During hectic days I've found these fish burgers to be really handy to have ready for a quick filling, protein packed meal.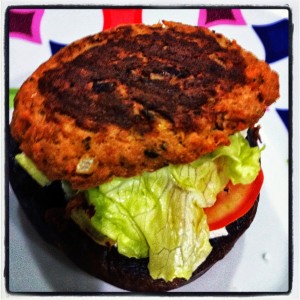 salmon burger on a grilled portobello mushroom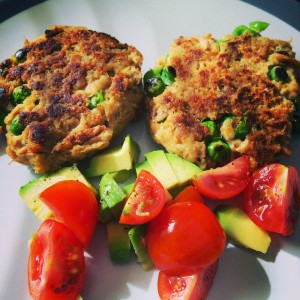 mini tuna burgers with a side salad of avocado and cherry tomatoes 
Recipe:
Ingredients: 
2 cans tuna fish or salmon
1/2 cup almond flour
1/2 teaspoon salt
1/2 teaspoon white pepper
1/4 teaspoon garlic powder
1 tablespoon mixed herbs
2 eggs, beaten
3/4 cup mixed vegetables (I like to use a mixture of chopped bell peppers and peas)
generous squeeze of lemon
extra virgin olive oil to coat baking sheet
Directions:
1. Beat the eggs
2. Mix together the fish, almond flour, and spices
3. Mix the beaten eggs into the fish mix
4. Mix in the vegetables and lemon
5. Shape into patties (number depends on how large you want the burgers)
6. Bake at 180 C for 8-10 minutes/each side
Note: Placing the patties in the fridge for 15-20 minutes can help firm them up and keep shape before baking.
Nutritional info: (per burger; based on the recipe above making 6 burgers and including 2 T of oil for frying) 
Tuna burgers:
210 calories
18 g. protein
5.2 g. carbohydrates (2 g. fiber)
13 g. fat (2 g. sat fat)
Salmon burgers:
185 calories
17 g. protein
5.2 g. carbohydrates (2 g. fiber)
12 g. fat (1.5 g. sat fat)