This week has seen a drastic change to my routine so far. The main change has been me getting back to my morning workouts. In Kuwait I used to teach an 8 a.m. class, which meant that if I wanted to workout before work, I'd have to get to the gym pretty early to get in a good workout and then get ready and drive to work. Even though it meant leaving the house super early, finishing my workout first thing in the morning was a perfect way to start my day.
Things have been a bit more different after my move to London as I was mostly working in the late afternoons/evenings. This meant that I didn't need to get to the gym at the crack of dawn — I could go later in the afternoon without a problem. However, I don't know about you, but I often found that I would postpone my workout and often not even get it done. I was getting annoyed with myself. Even though I was training jiu-jitsu regularly in the evenings, I knew I wanted (needed) to do more. The late morning/early afternoon workouts just weren't cutting it for me. I needed a change. So, the morning workouts have been reintroduced to my schedule.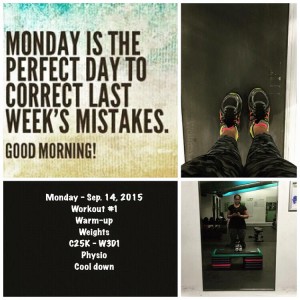 So far it's going pretty well. It was a bit strange on Monday morning as I went to the gym for my regular workout but then returned a couple hours later to do the yoga class. It wasn't ideal, but it worked out ok. If I wanted to do both the early morning workout as well as the yoga class then this is what I would have to do. Otherwise I'd have to give one of them up and I'm not ready to do that just yet. At the moment my plan is to do early morning workouts 4x a week and late afternoon workouts (either in addition to jiu-jitsu or just workouts on their own) 3x a week. Let's see how it goes.
The other change in my routine has been with my food prep. I used to try and do way too much food prep on Sundays. It often took a lot of time because I was preparing different meals for D and myself. Two sets of meals for two people = overwhelming. So now I've broken it down to just preparing D's meals for the week on Sundays and doing my own shop/food prep for myself on Mondays. I know it means using up 2 days for food prep, but what I found was that when I was trapping myself into the mindset of I have to prepare everything on Sunday. I would get frustrated and end up preparing just D's food and ignore my own. That meant that I wasn't ready for the week and even if I ate on plan, it wasn't always the best choice – i.e. just some dates and coffee for breakfast – or I would skip a meal altogether, and that definitely wasn't healthy. By taking the pressure off myself of feeling like I had to get everything done on one day, I felt a lot more relaxed and was definitely more productive.
A few new observations that have needed adjustments:
School traffic in the mornings — I left the house early enough to avoid any traffic, but I was caught in it on the way home. Something to keep in mind!
Rain — I still haven't fully adjusted to all the rain, particularly when it involves walking in it to get to my car/to the gym. I don't like the idea of wearing wet (or even damp) sneakers for my workouts. I'm going to have to set one side of trainers aside for rainy days and change into a fresh pair when I get to the gym.
The cold — Just throwing on my t-shirt and leggings before leaving the house just isn't going to cut it. It has been colder than I expected in the mornings — I gotta add a sweatshirt and sweatpants to my morning prep gear.
Good music — My cardio sucks, but I really want to work on it. The best thing for me is to have a good playlist ready to help motivate me through my 'dreadmill' sessions. I know that a good beat will give me the much needed pep in my step as I work on my running.
Food — Not eating before my workout means that I'm am famished by the time I come home. I need to make sure that I have food prepared so that I don't have to think too much about it and I can eat without getting too cranky first 😉
It's all about preparation and consistency. It's still early days of my routine, but so far it's working out quite well.