This fish loaf is frequently included in my dinner rotation. It's easy to make. It keeps well (fridge/freezer). Plus it's tasty! I've even made this loaf to have on hand while I was traveling abroad – it was much better than any airplane food, and a fridge & microwave in the hotel room made it easy to store, reheat, and eat while on the go. Although I would much rather use fresh fish than canned, for convenience, I used either tuna or salmon canned in water.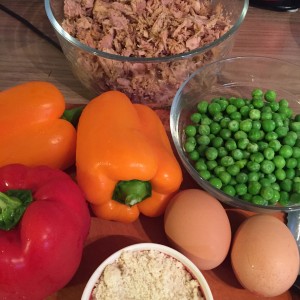 Ingredients:
375 g. fish (canned tuna or salmon)
2 eggs
3 bell peppers
3/4 cup peas (thawed/boiled)
1 cup ground almonds
1 teaspoon garlic powder
1/2 teaspoon cumin
salt and pepper to taste
extra virgin olive oil to coat the loaf pan
Directions:
Chop the bell peppers
Cook the peas (either boil or microwave until al dente)
In a separate bowl, whisk the eggs together
Mix the fish and vegetables together in a large bowl. Mix well but do not mash.
Add the ground almonds and spices and mix again
Mix in the eggs
Coat the loaf pan with olive oil (you can even line the pan with parchment paper and then coat)
Fill a loaf pan with the mixture
Bake at 180 C for 40 minutes
Let sit in the loaf pan for at least 5 minutes before turning out.
Serve & Enjoy!
Makes 6 servings.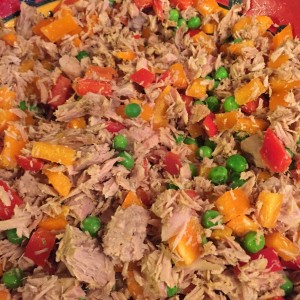 ingredients mixed together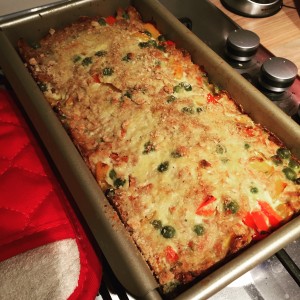 the final product