I don't know what has taken me so long to try making a Renergy sandwich. I think it was because I don't normally eat bread so I just pushed the idea out of my mind. The latest version of the Renergy sandwich (3.0) caught my attention as it used tapioca, which is gluten free, to make a tortilla. Since I normally do the Performance level of the Whole Life Challenge, which doesn't allow tapioca, I didn't really think of it. However, now that I'm doing the Kickstart level of the challenge, which does allow tapioca, I thought I would finally give it a go … that being said, it takes 2 days to properly prepare the tapioca flour … so today I just went ahead and made the different components of the sandwich and had a deconstructed version of it.
It was the first time I tasted this combination of ingredients — very, very delicious!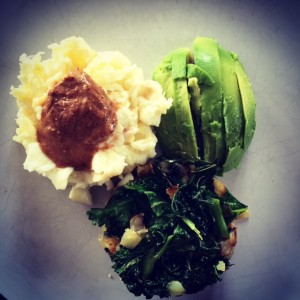 Ingredients:
1/2 cup egg whites
1/4 cup diced onions
1 cup kale
1 teaspoon almond butter
1/2 avocado
2 teaspoons extra virgin olive oil
Directions:
1. Heat 1 teaspoon of the EVOO and sauté the onions for 3-4 minutes. Add the kale and continue to sauté for about 5-6 minutes.
2. In another small fry pan, heat 1 teaspoon of EVOO and scramble the egg whites.
3. Serve with a teaspoon of almond butter and 1/2 an avocado.
It was so simple to make and so delicious – I can't believe I waited so long to make it! One day I'll try it with the tapioca tortilla and the goat cheese. In the meantime, this version worked great for me. Looks like my lunches are sorted for the rest of the week 🙂