Back from holiday and more than ready to get back in the kitchen. The 3 week break from cooking was nice, but boy did I feel the difference in my overall health by eating foods I don't normally eat (namely foods with flour and sugar). I was definitely craving healthy, clean food. I decided to try making mahi mahi for the first time today. I had never cooked it myself before. Although it was slightly overdone, it was quite tasty. I kept the seasonings really simple. I may play around different spices next time.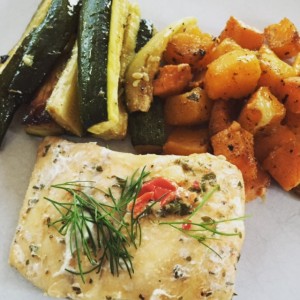 Ingredients:
2 4.5 oz fillets of mahi mahi (uncooked weight)
2 medium sized zucchini sliced
1.5 cups chopped butternut squash
2 tablespoon extra virgin olive oil
1/2 tablespoon Italian seasoning
1/4 chopped red bell pepper
salt (to taste)
1 teaspoon garlic granules
dill (for garnish)
Directions:
1. Combine 1 tablespoon of extra virgin olive-oil with the Italian seasoning and chopped bell pepper. Coat the mahi mahi fillets with the mixture and refrigerate for 1 hour.
2. Coat the chopped butternut squash with 1/2 tablespoon of extra virgin olive oil, the garlic granules, and salt to your taste. Bake in a preheated oven at 200 C for 30 minutes.
3. Coat the sliced zucchini with the remaining olive oil and season with salt to your taste. Bake in the oven for 20 minutes.
4. Loosely wrap the mahi mahi fillets in aluminum foil. Bake for 12 minutes. {Though when I made it, it tasted overcooked for me. I'll take it out after 10 minutes next time and see how it goes.}