I earned my first stripe on my Blue Belt today!
I was totally surprised when my name was called out, especially because I was awarded my stripe after Combatives class instead of during Master Cycle.
It was exciting. It was actually the first stripe I was ever awarded – mainly because I drilled Combatives at home and went straight into the test when I finally joined a CTC.
Being awarded a stripe was definitely a good feeling — but I also feel a bit of pressure. Now that I have it, I feel like I have to step my game up. I guess in that way it's not a bad thing because the last thing I want to do is be complacent about my training.
In any case — I'm excited to start this next level of training.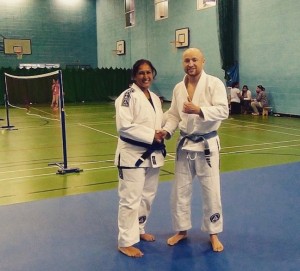 Being awarded my 1st stripe by Ben Tippen at Watford Gracie Jiu-Jitsu.
Obviously it came as a surprise to me — otherwise I would have at least fixed my hair for the photo 😉