During the Whole Life Challenge I eliminate a lot of foods from my diet. With no grains, starches, dairy, etc. it can seem like my food will be boring and tasteless. However, it was because I gave up all those things that I have been able to actually taste the foods. A few fresh, organic ingredients prepared simply = a great tasting meal.
This was tonight's dinner.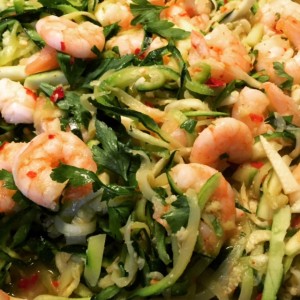 Ingredients:
3 zucchini, spiralized
600 g shrimp
4 cloves garlic, minced
2 tablespoons extra virgin olive oil
1 tablespoon of red chili flakes (optional)
1/4 cup of parsley leaves (optional)
salt to taste
Directions:
1. Heat a pan, then add 1 tablespoon of EVOO
2. Saute the garlic in the oil until lightly colored
3. Add the shrimp to the garlic, saute for 3-5 minutes until tender and then remove the shrimp from the pan
4. Add the remaining tablespoon of oil to the same pan and then add the zoodles. Cook for about 5 minutes, until tender but a little crispy. Add the salt.
5. Add the shrimps back to the pan and combine well
6. Add the chili flakes and parsley if using
Enjoy!