I had a craving for coriander – isn't that a strange thing to crave? I just couldn't get the smell of coriander out of my mind, so I decided to include it in our dinner. The spicy kick from the jalapeno balanced out the sweetness of the coconut milk and carrots. I added lots of fresh coriander towards the end, which gave it great flavor as well as fragrance.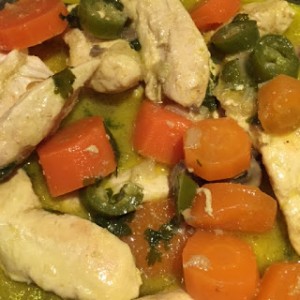 the curry simmering in the pot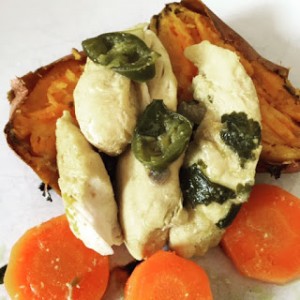 on a plate with a small baked sweet potato
Ingredients
1 onion, medium size, diced
2 cloves garlic, minced
3 jalapeno peppers
1 tablespoon extra virgin olive oil
400 ml coconut milk
1 1/2 teaspoons cumin powder
1 1/2 teaspoons coriander powder
2 teaspoons curry powder
salt to taste
pinch of cinnamon
4 chicken breasts thinly sliced
3 carrots, peeled and chopped
1 bunch fresh coriander
Directions
1) Sauté the onion and garlic in the extra virgin oil until slightly colored
2) Add the jalapeno to the onion and garlic mix and sauté for 1-2 minutes
3) Add the chicken to the pan and lightly brown the breast strips
4) In a separate pot, add the coconut milk, coriander, and spices. Mix and bring to a simmer.
5) Add the chicken and onion mixture to the coconut milk mix. Cook for 5 minutes.
6) Add the chopped carrots and coriander leaves. Cover and cook for another 15 minutes on low heat.
I would have loved to have had this with a bowl of rice or some warm naan, but since I'm on the Whole Life Challenge, I opted for a baked sweet potato instead. Again, the spice from the chili helped cut through the sweetness making it a nice mix of sweet a savory.