To help eat right during the week, I do a big food prep on Sundays. One of the things I prepare is this quinoa salad (suitable for Lifestyle and Kickstart levels – not Performance). The combination of ingredients is really quite tasty. To keep it vegetarian I sometimes add broccoli and sweet potatoes to give it a bit more bulk; otherwise, grilled turkey breast usually accompanies this salad.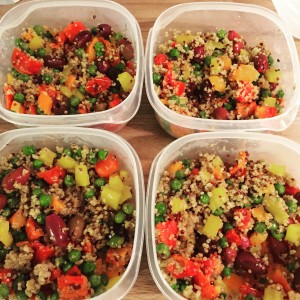 Ingredients:
250 grams quinoa
1 cup peas
30 cherry tomatoes
1 orange bell pepper, diced
1 yellow bell pepper, diced
1 cup black olives
2 T EVOO
salt to taste
2 teaspoons garlic powder
1 teaspoon ginger powder
1 teaspoon cumin powder
few dashes of chili flakes
3 bay leaves
Directions:
1. Cut the cherry tomatoes in half and put in a baking dish; drizzle with EVOO (about 1 tablespoon) and put the bay leaves on top of the tomatoes. Bake for 40 minutes at 180 C.
2. Prepare the quinoa according the to package directions
3. Heat a fry pan and add 1 tablespoon of EVOO when then pan is hot. Add the quinoa, peas, and baked cherry tomatoes; add the spices and sauté for about 5 minutes (until the ingredients are combined well)
4. In a separate bowl add the diced bell peppers and olives. After the quinoa mix cools add that as well. Mix well to combine all the flavors.
Just add your choice of protein or add a few more vegetables and you're good to go!