I usually make this on the weekends. It's a bit of a break from the egg muffins I normally eat throughout the week!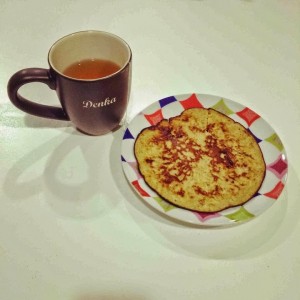 Ingredients:
1 banana
2 eggs
2 tablespoons all natural almond butter
(optional) dash of cinnamon
1/2 tablespoon butter
Directions:
1. Peel and mash the banana
2. Add the two eggs. Mix them together very well.
3. Mix in the almond butter and cinnamon powder. Make sure it's thoroughly mixed, but it's ok if it's slightly lumpy.
4. Heat a non-stick skillet pan. Put 1/4 tablespoon butter in the pan, and then add the batter. I usually put 2 generous tablespoons of batter per pancake.
5. Cook until golden brown (around 2 minutes per side)
Nutritional info here.