I had a bunch of apples in the fridge and I wasn't sure how I'd make use of them all. I knew I could make applesauce, but I wanted something a bit more satisfying. I played around with a combination of the ingredients I used to make my Lemon Pound Cake, Carrot and Pumpkin Muffins, and Banana Muffins and came up with an Apple Cake. I was surprised at how moist it stayed, even after being in the fridge for a few days. I haven't had any leftover to test how it freezes, but I hope it freezes well!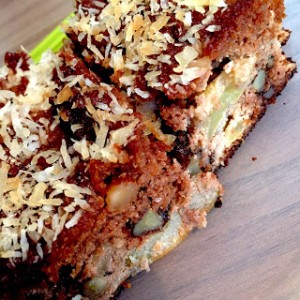 Ingredients:
2 cups almond flour
1 tablespoon coconut flour
1 teaspoon ground cinnamon
pinch of nutmeg
1 teaspoon baking powder
1 teaspoon baking soda
1/4 teaspoon salt
2 eggs
1/3 cup coconut milk
1 teaspoon vanilla extract
1/4 cup coconut oil, melted
1/2 cup date puree
1/3 cup chopped walnuts
2 medium apples, peeled and diced
Directions:
1) Preheat oven to 180 degrees C.
2) Mix together all dry ingredients
3) Whisk eggs and gradually add the remaining ingredients except the walnuts
4) Gradually fold in the dry ingredients into the wet ingredients, being careful not to over mix.
5) Fold in the apple and walnuts
6) Pour batter into a greased cake pan
7) Bake for 45-50 minutes