I was craving something citrusy and so I decided to play around with some ingredients. I'm quite happy with the result.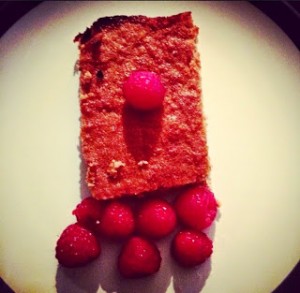 Ingredients:
1 1/2 cups almond flour
3 tablespoons coconut flour
1 teaspoon baking soda
1 teaspoon baking powder
1/4 cup shredded coconut
1/2 cup lemon juice
2 teaspoons vanilla
3 eggs
1/3 cup coconut milk
1/3 cup date puree
2 tablespoons coconut oil
Directions:
Preheat oven at 200 degrees C
1) Combine all dry ingredients together in a bowl
2) Whisk the 3 eggs
3) Add the remaining liquid ingredients to the whisked egg and whisk thoroughly
4) Mix dry ingredients into the liquid mix
5) Pour into pre-greased pan (grease pan, line with greased parchment paper)
Bake for 35-40 minutes
Enjoy with fresh berries!