I leave in 24 hours and I'm beyond excited!! If only I could figure out what to pack!
Although it's become normal for me to pack workout clothes when I go to travel, this was the first trip I was taking with the sole purpose of training. You'd think that with just one focus, packing would be simple … but with luggage/weight constraints and 2 weeks of Jiu-Jitsu to prepare for, it wasn't easy.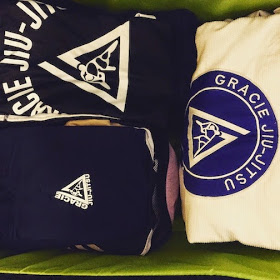 Guys definitely have it easier when it comes to packing – all they really need is their Gi and belt and they're set. Girls, however, also have to think about rashguards, sports bras, hair bands, etc. etc. Aside from all that little stuff, what I really am stuck on is – How many Gis should I take? I know that I can rent a Gi at the Academy, but I don't want to rent throughout my time there – the cost adds up. I'm not sure what laundry facilities I'll have access to; I don't know how often I'll be training … Perhaps it's best to keep it simple and take the bare minimum. I can figure things out once I get there.