Three years ago I wouldn't have imagined that I would be such a fitness enthusiast let alone be someone who was doing Jiu-Jitsu. The shift I have made from being a university teacher to working towards being a Jiu-Jitsu instructor is still a bit surreal for me … however, that's definitely the direction I'm moving in.
I have yet to write about how I got started with Gracie Jiu-Jitsu (coming in a future post), but let's just say for now that it's been going very well.
In October I started preparing for the Instructor Certification Program through the Gracie Academy (I wrote more about that in this blog post). I never imagined that I would be able to think about being an instructor at such an early stage of my practice, but the opportunity was there so I worked for it!
Time has really been flying by and my trip to Los Angeles for the final testing and evaluation is fast approaching. I'm nervous and excited at the same time.
I taught my first Jiu-Jitsu class yesterday (more about my experience here). It still feels a bit surreal to me that I even got up in front of everyone (20 men!) and taught a class. Not only is a change from the university environment, but it's just so unlike anything I've done before. Even working in the gym with others is different as it's more one-on-one coaching. This time, however, I stood up there in front of everyone and taught the techniques without hesitation.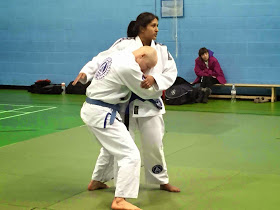 I didn't think too much about it as I was teaching, but afterwards, as I looked through the photos, I kept wondering to myself – Who is this person?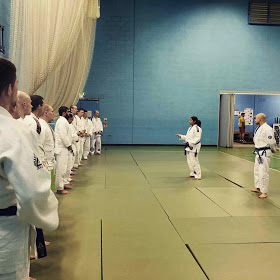 What was really great about teaching the class was the students/teammates (it always comes down to the students!). They were all so supportive and encouraging. There were 3 new students in the class that day (talk about adding pressure), but they said that they enjoyed the class, which was a relief! I think it's definitely strange when you shift from being in line with everyone else and then stepping to the front of the class to actually guide them — however, they didn't make me feel awkward at all. Everyone listened intently and worked well. Their support as well as the encouragement of the Head Instructor of the school (Ben Tippen) made it a great first experience.
Now let's see how it goes in LA!