Sometimes in the morning, particularly before I have an early morning workout scheduled, I just want something quick and easy to eat before I head out the door. A lot of times I will just have a date or 2 or maybe a banana or a tablespoon of peanut butter (or a combination of the above). On mornings like that, I always wish I had something a little more substantial prepared rather than just eating something on the fly. These banana muffins may be the answer!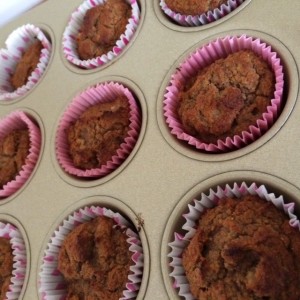 Ingredients:
3 bananas, mashed
3 eggs
1/2 cup almond butter
2 tablespoons coconut oil, melted
1 teaspoon vanilla
1/2 cup coconut flour
2 teaspoons cinnamon
2 teaspoons chia seeds
1/2 teaspoon nutmeg
1 teaspoon baking powder
1 teaspoon baking soda
pinch of salt
Directions:
1. Preheat the oven to 175 degrees C.
2. Grease muffin tin or line with muffin cups.
3. Beat together bananas, eggs, almond butter, coconut oil, and vanilla
4. Mix the coconut flour, cinnamon, chia seeds, nutmeg, baking powder, baking soda, and salt together.
5. Fold the dry mixture into the wet mixture.
6. Pour into muffin tin and bake for 25 minutes.
Nutritional info (per muffin; makes 12 muffins)
135 calories
4.3 g. protein
10.2 g. carbohydrates (3.3 g. fiber)
8.4 g. fat (0.34 g. saturated fat)