I was looking online for a recipe for granola. I found several that sounded good, so in the end I combined bit of different recipes and made some changes to ensure that it was WLC-compliant. What turned up was a dangerously delicious batch of granola. I will definitely need to keep them out of sight as they are way too tempting!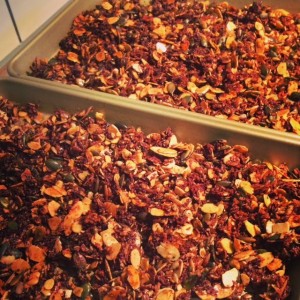 Ingredients: 
2 cups slivered almonds
2 cups coconut flakes (unsweetened)
1/2 cup sunflower seeds (hulled)
1/2 cup pepitas (hulled)
1 tablespoon chia seeds
1 teaspoon ground cinnamon
1 teaspoon nutmeg
1/3 cup extra virgin coconut oil (solid)
1/4 cup pureed date
2 teaspoons vanilla
Directions:
1. Preheat the oven to 175 degrees C
2. Line a large baking tray with parchment paper
3. Mix together the almond slivers, coconut flakes, sunflower seeds, pepitas, chia seeds, cinnamon, and nutmeg
4. Melt the coconut oil in a saucepan and add the pureed date. Mix well to ensure a smooth, liquid texture (you can use a hand blender to help).
5. Stir in the vanilla.
6. Pour the coconut and date mixture into the dry ingredients. Mix thoroughly.
7. Spread the mixture evenly on the baking tray.
8. Bake for 14 minutes (bake for 7 minutes, take out of the oven, turn granola chunks over, and bake for another 7 minutes)
To get larger clusters, wait for the granola to cool before breaking it up.
Store in airtight containers.
Sometimes I add walnuts and pecans to the mixture as well.
For more recipe ideas/meal plan help/nutritional support, join the official Worldwide Warriors team. I'm here to help!