This was the first 'dessert' I ever made while on the Whole Life Challenge. The combination of dates and peanut butter was incredibly delicious — so delicious that I almost felt it was 'dangerous' to keep them around the house … tempting, filling, and moreish for sure!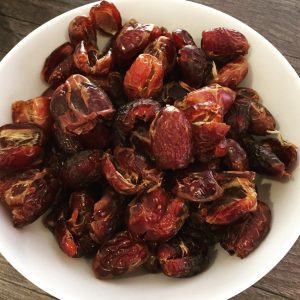 Ingredients:
1 1/2 cups dates, pitted
1/4 cup all natural peanut butter
1/2 cup shredded coconut
hot water
Directions:
Soak the pitted dates in hot water – use just enough to cover the dates.
Purée the dates in a blender.
Add the peanut butter. If it gets too sticky, add a bit of the water the dates were soaking in.
Turn out the mixture in a bowl. Refrigerate the mixture for 15-20 minutes to make it easier to roll into small balls.
Gently roll the balls in the desiccated coconut to coat them.
Store the peanut butter date balls in an air tight container.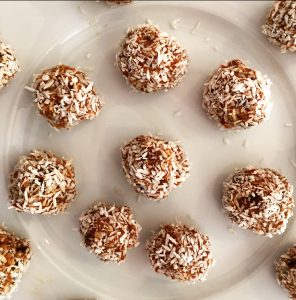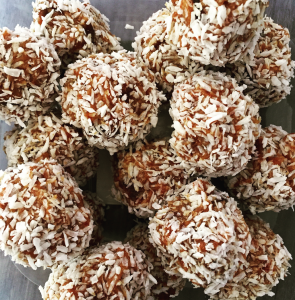 An alternative to the date/peanut butter/purée process is to slice the date in half and fill with peanut butter. It's quicker and it tastes just as good! Enjoy!