This past week I cooked a batch of fish stew on Saturday to have as my lunch during the week. It really helped to have the meal prepared so that all I would need to do is heat it up once I got home, especially because I'm usually ravenous by lunch time!
I finally sat down and did the calorie count; everything looked fine though the amount of saturated fat is a bit high for my liking. Still, I will make this again. I had the soup over 3 days, but I think there was enough to have over 4 days. For the next batch I may add some more vegetables, such as a zucchini, broccoli, and/or some cauliflower.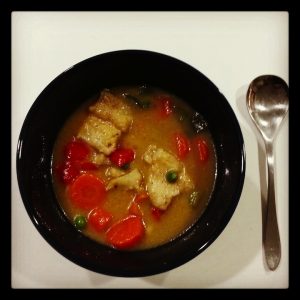 Ingredients
2 lb white fish
2 cloves garlic
4 tablespoons lime juice
salt/pepper to taste
2 tablespoons extra virgin olive oil
1 red bell pepper diced
1 cup peas
2 carrots sliced
1 tablespoon paprika powder
1/2 teaspoon red chili flakes
1 tablespoon ginger powder
1 14 oz. (400 g) can coconut milk (no additives/preservatives and especially no sugar)
Directions
1. Combine the fish, garlic, lime juice, and salt + pepper and set in the fridge to chill while preparing the vegetables
2. Saute the rest of the ingredients (except for the coconut milk) for 5-7 minutes until slightly soft; add 1/4 cup water to help the vegetables cook and the spices to dissolve
3. Remove half the vegetables from the pot
4. Add the fish mixture, and then put the vegetables on top of the fix mixture
5. Add the coconut milk; stir once gently; let it cook for 5 minutes
6. Gently stir the mixture again 3-4 times; cover; simmer for about 15 minutes
Please note: The calorie count is for the following recipe (please note that the actual calorie count may vary depending on your particular ingredients; these numbers are based on the ingredients that I used).
Nutritional info per serving (serves 4)
350 calories
22 g protein
12.5 g carbohydrates (12.5 g fiber)
22.5 g fat (7 g saturated fat)