This breakfast recipe is based on one that is in Oxygen magazine. I've modified it to suit my taste. I usually prepare the vegetable mix on Saturday night and combine it with the eggs on Sunday morning (my weekend is Friday & Saturday) and then pop it into the oven. By the time I'm ready to leave the house, it's ready and I've got breakfast prepared for the week. I eat them cold (after I finish my morning workout). They're filling and tasty. I eat this pretty much every single morning during the week.
This is my go-to breakfast, both when I'm doing the Whole Life Challenge and when I'm not! I find it quick to prepare, tasty to eat, and I can make a big batch that carries me for a few days.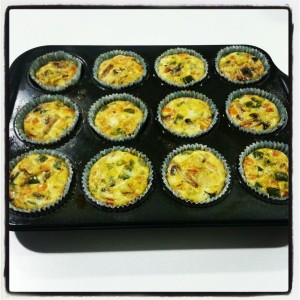 Ingredients:
2 whole eggs
2 cups of egg whites
1 zucchini diced
1 1/2 tomatoes diced
8 mushrooms diced
1 orange bell pepper diced
1 1/2 teaspoons garlic powder
dash salt
1 1/2 teaspoons black pepper
1 1/2 teaspoons ginger powder
1. Whisk the eggs together and add the spices.
2. Stir in the diced vegetables.
3. Pour into lined muffin pans and bake for 30-35 minutes at 200 degrees C.
Nutritional Info per egg muffin:
50 calories
6.25 g of protein
3.3 g carbohydrates (0.8 g fiber)
1.5 g fat (0.43 g saturated fat)