I can truly say that my life has changed – my Whole Life has changed.
I can't even express how pleased I am with the results of the challenge. I weighed in this morning and measured myself, and then I headed to the gym to do my baseline test.
Here are my results: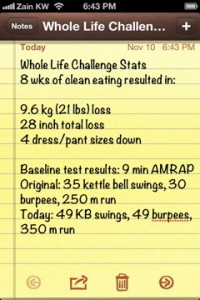 I've definitely made progress — and as I've said many times before, it wasn't just progress in weight loss and fitness. The real progress has been in my awareness about foods and my behavior. That lesson is one that has been incredibly valuable.
Eight weeks may seem like a long time, but in the scheme of things, it's not that long. The changes that I have made are ones that I plan on continuing.
Today was the first day off the challenge. I went out for brunch with some friends and of course the big question was – What will you have to treat yourself? All day I was thinking that there might be a little something I'd want to have – even if it's just milk in my coffee …
But no, there wasn't. I just didn't want any of it. I stuck to my normal eating until tonight – when I had about an inch of bread, less than 1 tsp of a garlic sauce, and 1 French fry … there was plenty more to eat, but I didn't even like the taste of what I had … there was desert on offer, but that didn't appeal to me either. So I tried a little something, but it wasn't anything special.
I have no specific plan at the moment except to continue as I have been doing and see where the road takes me. The practice of constant vigilance and daily practice of some sort of exercise are things that I do not plan on giving up ever.
Thanks so much to the Whole Life Challenge organizers, CrossFit Warwick, CrossFit Q8, and The Biz Raise Your Game — it's been an incredibly rewarding experience.
One of my closets at the start of the challenge: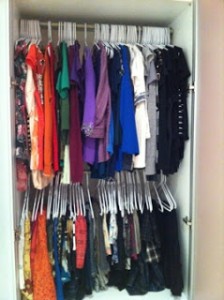 The same closet after getting rid of clothes that don't fit at all. Many of the ones hanging are on their last wear – I need something for work!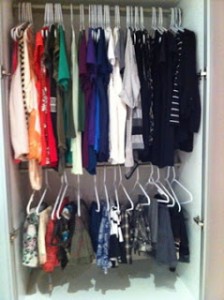 The pile of clothes from the closet that I'll be donating to charity: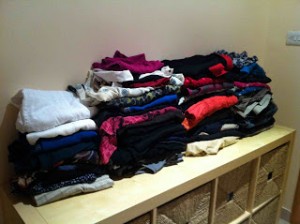 My before and after shot: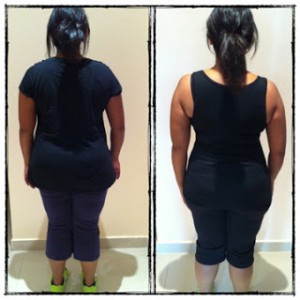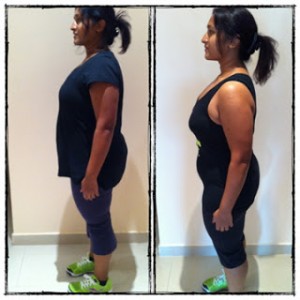 I still have a long way to go … but I now have a lot more confidence and determination to help me reach my goals!
---
I'm about to start yet another WLC and I can't wait! Revisiting my reflections and rereading the progress I made has reminded me that I can totally do this. If you're looking for a super-supportive team to join with a positive mindset, then look no further than the Worldwide Warriors. I'm so thankful that I can share my love and enthusiasm for this challenge with my team members. To sign up for my team, follow this link.