I've always liked to experiment with cooking on my own. This recipe, however is one that my mom gave to me — and it's one of my all-time favorite dishes to cook (and eat). It's not the 'freshest' recipe, but it really is tasty – very filling and low in fat.
Ingredients:
1/2 tablespoon olive oil
1/2 cup diced onion
1 tablespoon of each of the following spices: turmeric, cumin, coriander, ginger, paprika
1 can of tomato sauce
1 can chick peas
1 cup water
2 tablespoons tomato paste
1/2 cup peas
1 tablespoon garlic powder
Directions:
1. Heat olive oil in a pan and then add the diced onion. Let it cook for 2-3 minutes until slightly brown.
2. Add the spices. Mix well. Add 1-2 tablespoons of water to loosen the spices and help them cook. Stir and let cook for 3 minutes
3. Add the tomato sauce, chick peas, water, and tomato paste. Mix well and let it cook for 35 minutes on low heat. Stir once or twice every 10 minutes.
4. Add the peas (can be from frozen) and the garlic powder. Stir. Cook for another 5 minutes.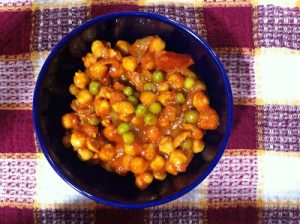 Nutritional Info (calories per serving/recipe serves 3)
235 calories
8 g. protein
41.5 g. carbohydrates (11.5 g. fiber)
7 g. fat (1 g. saturated fat)