Friday schedule: Body Combat, Body Pump, Zumba – 3 hours back to back; 1350 calories burned.
At first I felt hesitant about whether or not I should do all three classes, but I've learned from the past that this hesitation needs to just be kicked in the ass!
It felt good to be back in the gym and doing the workouts again.
In particular, the highlight of my day was going into the Body Pump studio to find this on my bench (sorry for the blurry photo):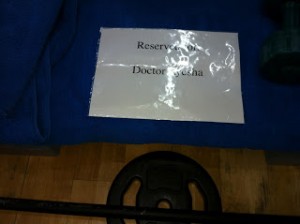 There was also a doctor's coat on my bench. KD, the Body Pump instructor, pulled me to the front of the class (OMG I was so shy and totally blushing!!) and congratulated me – it was so sweet though and presented me with the doctor's coat. Everyone applauded and congratulated me. I was embarrassed but happy at the same time 🙂 We did clarify that I had not become a medical doctor, but I did wear the coat for a few minutes of the warm-up track (made even harder to get on and pull off coz' I was so sweaty from Body Combat). Here's a photo that we quickly took after the workout (at this point I had completed 2 classes, so excuse the dazed/sweaty look, lol):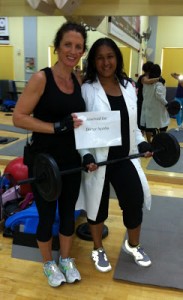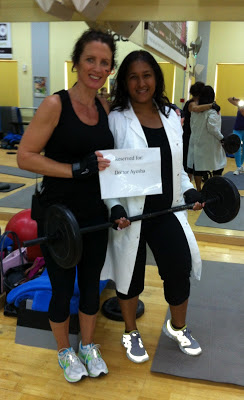 In
yesterday's post
I was wondering about whether or not I should do CrossFit because I still haven't finished NROL4W. I'm almost done with the New Rules program though so I've decided that I'll start CrossFit training from next Wednesday. I'll be able to squeeze in 4, maybe 5 sessions before I travel next. Still, I won't be gone for long so I can rejoin when I return – and then it'll be about 6 full weeks before my next trip (yes, quite a bit of travel this summer).
I also desperately need to get my eating on track. My crazy huger has subsided, but I have yet to do a proper shop and load up on good fruits and veggies for us. It's on my list of things to do and hopefully something I can tackle tomorrow.
I'm still trying to catch up on the blog reading/commenting. Slowly but surely I'm making progress – though that stack of papers to grade is calling my name. I'm not sure how much longer I can ignore it!
{original comments to this post can be found here}