Last night I experimented cooking with quinoa for the first time. I've heard about the nutritional benefits of quinoa before but have never cooked it because it's just not easily available here in Kuwait — I actually brought my stash in from London. Their prepackaged portion and preparation guide was perfect to help me prepare a quick meal.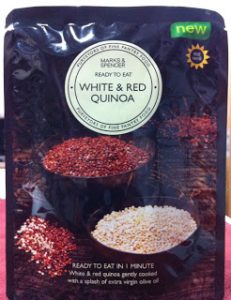 Before getting to the recipe, a big of info about quinoa that I wanted to share.
I've know that brown rice is better than white rice because of the extra refining process that's involved with white rice, and I had heard that quinoa (which is actually a seed and not a grain) is healthier than brown rice – but I wasn't sure in what way. I found this great
site
that breaks down the nutritional info of white rice, brown rice, and quinoa and compares them side by side. I am aware that the site focuses on cooking quinoa in general, but I checked the info against a few
other
websites
, and they all seem to yield the same results (the site I linked up to just presents all the info in a clearer manner).
Overall, quinoa is more nutritional than brown rice … and both are better options to white rice.
Okay, back to the recipe — first of all, I know that prepackaged foods should be avoided, but you know how hectic things have been — it's been the easiest way to make sure I stick to healthy eating habits while working through this editing hell! Anyway. The prepackaged quinoa was excellent – quick and easy to prepare. I added it to a few sautéed vegetables, and the meal was delicious!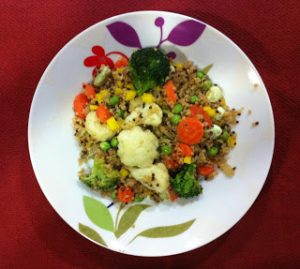 After taking this picture I realized that most my meals look the same! The packaged mix of broccoli, cauliflower, and carrots has saved me this past week and a half in terms of veggie prep. However, I'm looking forward to getting back to more unpackaged, natural foods soon. I did add some diced yellow bell pepper as well as a 1/2 a cup of peas and broad beans for variety.
Ingredients:
1 package quinoa
1 teaspoon extra virgin olive oil
2 tablespoons chopped onions
1/2 teaspoon cumin
1/2 teaspoon curry powder
1 teaspoon garlic (or 1 clove of garlic minced)
2 cups mixed frozen vegetables (half thawed)
1 diced bell pepper (I used yellow for some added color)
1/2 cup frozen peas and broad beans
Directions:
1. Prepare quinoa as per package
2. Saute the onions in the oil until lightly brown
3. Add the spices and stir
4. Add the vegetables, stir, and put cover the pan while the veggies cook for 5 minutes
5. Add the quinoa and mix well
Nutritional info (calories per serving/recipe serves 2)
395 calories
13.5 g. protein
67 g. carbohydrates (14.6 fiber)
10 g. fat (1.1 g. saturated fat)