I've been having trouble finding my focus while writing. Part of it has to do with being stuck at home, at my desk – the same surrounding day after day. It's making me feel a bit claustrophobic. I would study elsewhere, but frankly, I find it quite distracting. The noise of coffee shops – plus all the distractions with people walking in and out as well as inevitably running into a few people that I know – doesn't help me concentrate. I wish there was a nice library where I could just go and work peacefully for a few hours – proper desks and chairs and an inspiring ambiance. Kuwait's national library is supposed to be opening soon – but I hope that I'll be done with my PhD by the time it actually opens. In any case, I think the stage I'm at in terms of my writing prevents me from working anyplace other than home. I need to have my books/research articles at hand as well as all my notes and research diaries. It doesn't make sense (nor is it really possible) to lug them around where I go. Anyway, I really can't complain about my home office – it's absolutely ideal. I've got everything I need organized just the way I want it … so it's really just about being able to mentally focus without getting bored or distracted … and to do that, I turned to music.
I remember once upon a time when I absolutely could not work without music. It was everything to me – and it helped motivate and inspire me. Unfortunately, I had been having a bit of trouble finding the right type of music to listen to while working on my thesis. I found all my favorite songs to be distracting … classical music and other instrumentals were a bit boring … and then I hit the jackpot with Tango music and Trance music.
Odd combination, isn't it? But it worked perfectly for me.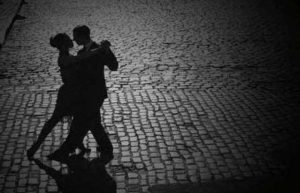 The soulfulness of the tango tunes and the hypnotic effect of the trance beats put me in the perfect zone. Having no/minimal lyrics also helps as I don't get distracted by singing along. With either of these genres I seem to be able to zone out the rest of the world and focus only on the words in front of me. Now, whenever I sit down to read or write, I've got my tango and trance playlist ready to keep me company.
[Suggested Albums: La Revancha Del Tango (Gotan Project) and 40 Summer Trance Hits 2009 (Various artists)]